MDK Combo Sale on Steam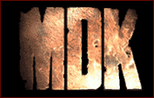 MDK and MDK2 are on sale this week on Steam (MDK combo, 7,49€). If you still don't have one (shame on you), go and buy it.




Source

: Steam

Hectic HQ Interview with Nick Bruty!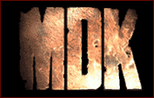 We had an opportunity to interview Nick Bruty, creator of the original MDK, now Co-Founder at Rogue Rocket Games. Did you know that Kurt was originally supposed to have an access to the bike? There are so many things about MDK which you have no idea! Read our interview for more details!

Click here to read the interview!

1st Wonder! *UPDATE*
I'm sure that many of you MDK fans have heard of such titles as the Giants: Citizen Kabuto, Armed and Dangerous, Earthworm Jim. If you really want to see this kind of games again, there's a chance! Nick Bruty, one of the main creators of the MDK, is preparing to create such a title. It will be called "1st Wonder". You can check more about this spiritual successor of MDK and Giants here: http://www.first-wonder.com


More information will appear on: http://www.roguerocketgames.com

Be ready for kickstarter and please spread the word about upcoming 1st Wonder!

*UPDATE*
Click READ MORE to check out a new concept art!



Source

: 1st Wonder

MDK2 HD is now available through Steam!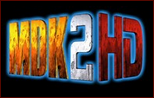 MDK2 HD was officially released yesterday to the Steam service!

Now you can choose through which platform you prefer to play - Steam or Beamdog.

You can buy MDK2 HD through Steam for $14.99.

The current cost of MDK2 HD through Beamdog is $7.50!



Source

: Beamdog, Steam

MDK 2 HD is coming to Steam!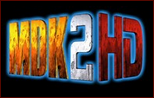 Hello to all faithful MDK fans.

We've very good news for everyone who waited for the
MDK 2 HD release to the Steam service.
Everyone thought that HD version will be available exclusively through Beamdog platform.
We've decided to ask Trent Oster (founder of Beamdog and Overhaul games), what has changed in this case.

The answer is :
"After a great deal of fan requests, we jointly decided to end the MDK2 HD exclusivity on Beamdog to bring the game to the Steam service."

MDK 2 HD is coming to Steam on July 30th, 2012!

We've also noticed that many fans of MDK 2 still demands its release on Wii in Europe.
Unfortunately, we don't have good news for Wii players.

Trent Oster said :
"Sadly, we have no plans for an MDK2 Wii European release. Interplay may choose to undertake it, but we currently have no plans in this area."

An MDK Padarox!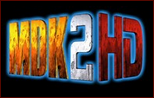 If you not played yet in MDK 2 HD, you have a great opportunity to try it.

Now you can buy the game for $ 9.99 only via Beamdog.

MDK 2 HD was released on October 12, 2011.



Source

: Beamdog

MDK 2 HD - Official release date!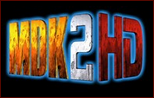 MDK 2 will see daylight on October 12th. Don't forget about our gallery, which is full of new screenshots.

To see the first video from MDK 2 HD click : HERE
Prepare your chainguns, boys and girls! It's time for MDK 2 HD!



Source

: Neoseeker, Beamdog

More screenshots!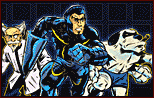 Gotta say, the guys from Beamdog are working really hard. Here are the two new screenshots from MDK2HD (also at our GALLERY)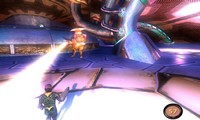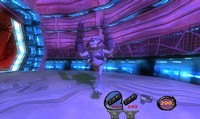 Source

: MDK 2 HD on Facebook


MDK 2 HD release date!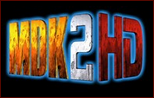 MDK 2 HD will be released in September this year.

"Edmonton, AB, Canada. MDK2 HD. Enough said! Or… maybe not. The fine chaps at Interplay Entertainment Corp. and Overhaul Games are pleased to announce the impending launch of MDK2 HD, bringing Interplay's wacky action-adventure to a new generation of gamers. With a visual overhaul that would make a Beverly Hills plastic surgeon wail with jealousy, as well as a wide range of gameplay tweaks and reworked audio, MDK 2 HD will launch exclusively via Beamdog.com in September for just $14.99."

If you want more details, click the "Read More" button below.



More HD screenshots!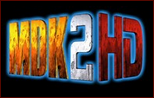 We've got some more screenshots from the MDK 2 HD, just for you! Keep in mind they're from beta, so some may change in final version. You can admire them in our gallery at: HERE

Also, the MDK 2 HD official site is up : Overhaul Games
There you'll find screenshots from MDK 2 HD in high resolution.

Check the official MDK 2 HD page on facebook: HERE



Source

: Beamdog, Overhaul Games

MDK 2 HD first screenshot!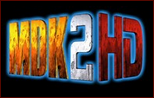 Follow this link to see the first screen of MDK2 HD, comparing the original Max and the new HD version.

Max original and HD



Source

: Beamdog

Login

Not a member yet?
Click here
to register.

Forgotten your password?
Request a new one
here
.

Users Online

Guests Online: 1
No Members Online



Registered Members: 100


Unactivated Members: 6


Newest Member: ~Scile

Hectic HQ - MDK