MDK 2 HD - Official release date!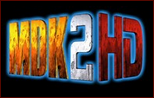 MDK 2 will see daylight on October 12th. Don't forget about our gallery, which is full of new screenshots.

To see the first video from MDK 2 HD click : HERE
Prepare your chainguns, boys and girls! It's time for MDK 2 HD!



Source

: Neoseeker, Beamdog
on October 03 2011 00:17:05


You should put up the recent goodwill Facebook pic from Beamdog, Mnich.

on October 03 2011 18:30:44


They're already in gallery
Please Login to Post a Comment.

Login

Not a member yet?
Click here
to register.

Forgotten your password?
Request a new one
here
.

Users Online

Guests Online: 1
No Members Online



Registered Members: 99


Unactivated Members: 0


Newest Member: ~mhochoy

Hectic HQ - MDK