MDK 2 HD is coming to Steam!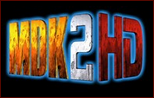 Hello to all faithful MDK fans.

We've very good news for everyone who waited for the
MDK 2 HD release to the Steam service.
Everyone thought that HD version will be available exclusively through Beamdog platform.
We've decided to ask Trent Oster (founder of Beamdog and Overhaul games), what has changed in this case.

The answer is :
"After a great deal of fan requests, we jointly decided to end the MDK2 HD exclusivity on Beamdog to bring the game to the Steam service."

MDK 2 HD is coming to Steam on July 30th, 2012!

We've also noticed that many fans of MDK 2 still demands its release on Wii in Europe.
Unfortunately, we don't have good news for Wii players.

Trent Oster said :
"Sadly, we have no plans for an MDK2 Wii European release. Interplay may choose to undertake it, but we currently have no plans in this area."
No Comments have been Posted.
Please Login to Post a Comment.

Login

Not a member yet?
Click here
to register.

Forgotten your password?
Request a new one
here
.

Users Online

Guests Online: 1
No Members Online



Registered Members: 99


Unactivated Members: 0


Newest Member: ~mhochoy

Hectic HQ - MDK