Hectic HQ Interview with Nick Bruty!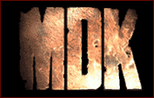 We had an opportunity to interview Nick Bruty, creator of the original MDK, now Co-Founder at Rogue Rocket Games. Did you know that Kurt was originally supposed to have an access to the bike? There are so many things about MDK which you have no idea! Read our interview for more details!

Click here to read the interview!
No Comments have been Posted.
Please Login to Post a Comment.

Login

Not a member yet?
Click here
to register.

Forgotten your password?
Request a new one
here
.

Users Online

Guests Online: 2
No Members Online



Registered Members: 99


Unactivated Members: 0


Newest Member: ~mhochoy

Hectic HQ - MDK