An MDK Padarox!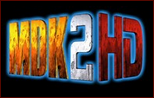 If you not played yet in MDK 2 HD, you have a great opportunity to try it.

Now you can buy the game for $ 9.99 only via Beamdog.

MDK 2 HD was released on October 12, 2011.



Source

: Beamdog
No Comments have been Posted.
Please Login to Post a Comment.

Login

Not a member yet?
Click here
to register.

Forgotten your password?
Request a new one
here
.

Users Online

Guests Online: 1
No Members Online



Registered Members: 99


Unactivated Members: 0


Newest Member: ~mhochoy

Hectic HQ - MDK