More HD screenshots!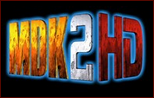 We've got some more screenshots from the MDK 2 HD, just for you! Keep in mind they're from beta, so some may change in final version. You can admire them in our gallery at: HERE

Also, the MDK 2 HD official site is up : Overhaul Games
There you'll find screenshots from MDK 2 HD in high resolution.

Check the official MDK 2 HD page on facebook: HERE



Source

: Beamdog, Overhaul Games
No Comments have been Posted.
Please Login to Post a Comment.

Login

Not a member yet?
Click here
to register.

Forgotten your password?
Request a new one
here
.

Users Online

Guests Online: 2
No Members Online



Registered Members: 99


Unactivated Members: 0


Newest Member: ~mhochoy

Hectic HQ - MDK