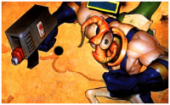 This may sound unbelievable, but it's true. To celebrate the 25th anniversary of the title, the original team responsible for creation of Earthworm Jim reunites to create a brand new video game about the most famous worm. It will be an exclusive title for the upcoming Intellivision Amico console, which is planned to come out next year in October.
Earthworm Jim was the very first game of Shiny Entertainment, released in 1994. Its sequel, Earthworm Jim 2, was released a year later.
People like Nick Bruty, Doug TenNapel, David Perry, Tom Tanaka, Joey Kuras and Mike Dietz are back so the new Jim is in the good hands. We can also expect some awesome music from Tommy Tallarico, the president of Intellivision Entertainment. He was an original composer and sound designer for Earthworm Jim.
"We have been talking about this moment for many years, it's a dream come true to finally get the entire team back together. We're looking forward to sharing a small part of our reunion and initial design meeting with fans from around the world," said Tommy Tallarico, Intellivision Entertainment CEO/President and original Earthworm Jim 1 & 2 composer and sound designer. "Intellivision Amico is designed to bring friends and families together and we are excited for fans and those just being introduced to the series to get a first look as we kick-off the design of the game."

"To celebrate the reunion with the fans, a 20 minute live interactive simulcast streaming event will take place on Saturday, May 4th at noon pacific during the first Earthworm Jim design meeting with the original team. As part of the live simulcast, the team will engage with fans to hear their new vision firsthand, multiple original art pieces will be hand-drawn by the artists, signed by the entire team and given away to people viewing the live stream. In addition, 50 brand new posters will be signed and numbered for live chat prizes."
Where to watch the live event:

Facebook: https://www.facebook.com/Intellivision/
YouTube Live: https://www.youtube.com/c/Intellivision
TwitchTV: https://www.twitch.tv/intellivisionamico/