This page is hosted for free by
cba.pl
. Are you the owner of this page? You can remove this message and unlock many additional features by upgrading to PRO or VIP hosting for just 5.83 PLN!
Want to support this website?
Click here
and add some funds! Your money will then be used to pay for any of our services, including removing this ad.


New theme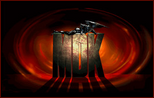 Today is our little anniversary. It's been five years since I posted our very first news. I think it's a perfect time for some changes. The fansite has a new theme. My main goal was to give it an atmosphere of the original MDK. The old header is now on forum which isn't so large like it was before. I hope you like the new style of Hectic HQ. I can finally get some rest.
No Comments have been Posted.
Please Login to Post a Comment.

Login

Not a member yet?
Click here
to register.

Forgotten your password?
Request a new one
here
.

Users Online

Guests Online: 1
No Members Online



Registered Members: 99


Unactivated Members: 73


Newest Member: ~mhochoy
Copyright © 2009 - 2016 Hectic HQ (All rights reserved)
MDK & MDK 2 Copyright &copy Interplay

Powered by PHP-Fusion v6.01.6 || EP IV by eXtreme Crew
HecticHQ Theme by Mnich
899698 Unique Visits