New theme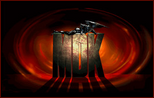 Today is our little anniversary. It's been five years since I posted our very first news. I think it's a perfect time for some changes. The fansite has a new theme. My main goal was to give it an atmosphere of the original MDK. The old header is now on forum which isn't so large like it was before. I hope you like the new style of Hectic HQ. I can finally get some rest.
No Comments have been Posted.
Please Login to Post a Comment.

Login

Not a member yet?
Click here
to register.

Forgotten your password?
Request a new one
here
.

Users Online

Guests Online: 2
No Members Online



Registered Members: 100


Unactivated Members: 6


Newest Member: ~Scile

Hectic HQ - MDK