MDK has six levels. Each of them (except the final level) starts with a Doctor's short briefing onboard the Jim Dandy. Kurt is informed there which city was attacked. His main objective is to kill the commanding general.

Each mission is divided into three types of gameplay :

FREEFALL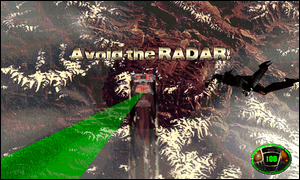 The first stage of the mission is freefall. During the freefall to the minecrawler Kurt must avoid the radar beam. Each minecrawler is equipped with such a radar, touching its beam will cause the launch of several powerful anti-air missiles, which must be dodged. At this stage, Kurt also receives help from the doctor who sends down various weapons. Each of them will be available during normal gameplay if they were collected by Kurt during this stage.

TRAVERSAL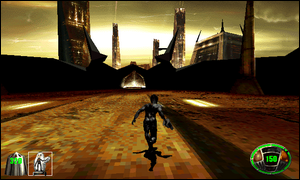 This is the main mode, the longest of the three. Each level is divided into arenas. Arenas are different from each other. The main differences are the number of enemies, overall appearance and a way to get out of the arena. Sometimes Kurt will need a nuclear bomb to open the door. Sometimes he will have to eliminate a unique opponent. He will also have a chance to throw sniper mortars into tubes or disguise himself as a sentry robot to deceive guards. Arenas are interconnected by tunnels.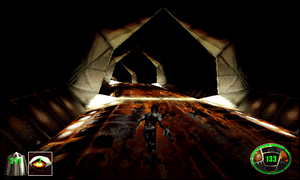 ---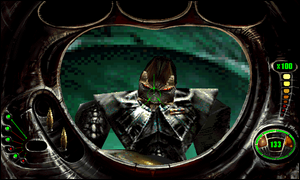 Kurt will find his ultimate target on the last arena. After the death of the commanding boss, minecrawler will self-destruct and everything, including Kurt, is sucked back into the energy stream.

STREAM RIDING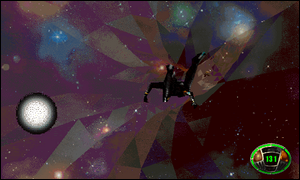 The final stage of the mission is to get the proper reward. Kurt has a chance to catch a monkeybox, which will give him 150% health. Touching the walls of the stream will cost him some health points. Regardless of whether Kurt will catch a package or not, our friend Bones will appear to take him back to the space station.