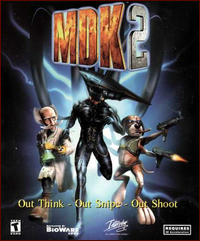 Developed by : BioWare
Published by : Interplay Entertainment
Platforms : Dreamcast, Microsoft Windows, Playstation 2, WiiWare
Release date : July 1, 2000 (Windows, Europe)
May 25, 2000 (Windows, North America)
June 9, 2000 (Dreamcast, Europe)
March 31, 2000(Dreamcast, North America)
June 29, 2001 (Playstation 2, Europe)
March 26, 2001 (Playstation 2, North America)
May 9, 2011 (Wii)
Genre : Action, Shooter, Platformer
Perspective : 3rd-Person Perspective
PC Requirements :
Pentium 300Mhz
64MB RAM
3D acceleration card
DirectX®: 7
Sound Blaster compatible
500MB of Free Hard Disk Space
---
3 Unlikely Heroes, 1 Ultimate Goal

Kurt Hectic is back to save the universe. This time he is teamed with the genius Dr. Hawkins and the 6-legged gun-toting robotic dog, Max. Together they must out-sneak, out-blast and out-think their enemies as they attempt to reclaim earth from a vile alien menace.
on September 01 2014 21:47:19


I think the sequel suckt.
I mean, it was a whole other game.
I mis the big battlefields and stuff.
they should make a HD for the first game.


Please Login to Post a Comment.

Login

Not a member yet?
Click here
to register.

Forgotten your password?
Request a new one
here
.

Users Online

Guests Online: 1
No Members Online



Registered Members: 98


Unactivated Members: 16


Newest Member: ~evoneczka432432