RRG fanart contest and new screens of First Wonder
Posted by Mnich on August 13 2015 13:01:07
---
Rogue Rocket Games is doing a fanart contest. Here is the official info:

"First Wonder Fan Art Contest
*Goal: Create Fan Art related to First Wonder


*Length: Runs from August 12th to August 17th at 6 PM PST

*Type: Fan art can be for:
-First Wonder
-MDK
-Giants: Citizen Kabuto

*Rules:
-No stealing other people's art and submitting it as your own.
-The artwork you create should not already be posted online somewhere (feel free to after the contest)
-No NSFW (not safe for work) artwork
-No unrelated artwork
-Can be submitted from anyone in any country

*Rewards:
-One winner will receive a digital copy of Gunpowder (Steam) and a digital copy of First Wonder.

*Submissions:
-To submit fan art to the contest send it via email with the header of First Wonder Fan Art Contest to:
scargle(at)roguerocketgames.com

This is pretty basic and straight forward contest, but let us know if anyone has any questions about any aspect of it. Dario Liotine's fan art we posted the other day is a great example of what we are looking for, but we strongly encourage anyone to try regardless of how skilled you are. Most importantly, have fun and show us how creative all of you are!"

And here is said fan art made by Dario Liotine.



Click on the image to enlarge.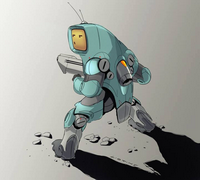 We also have a fresh screenshots from First Wonder. Click on "Read More" below to see them all.



Source

: First Wonder, Rogue Rocket Games
---
Extended News
---
Click on the image to enlarge.